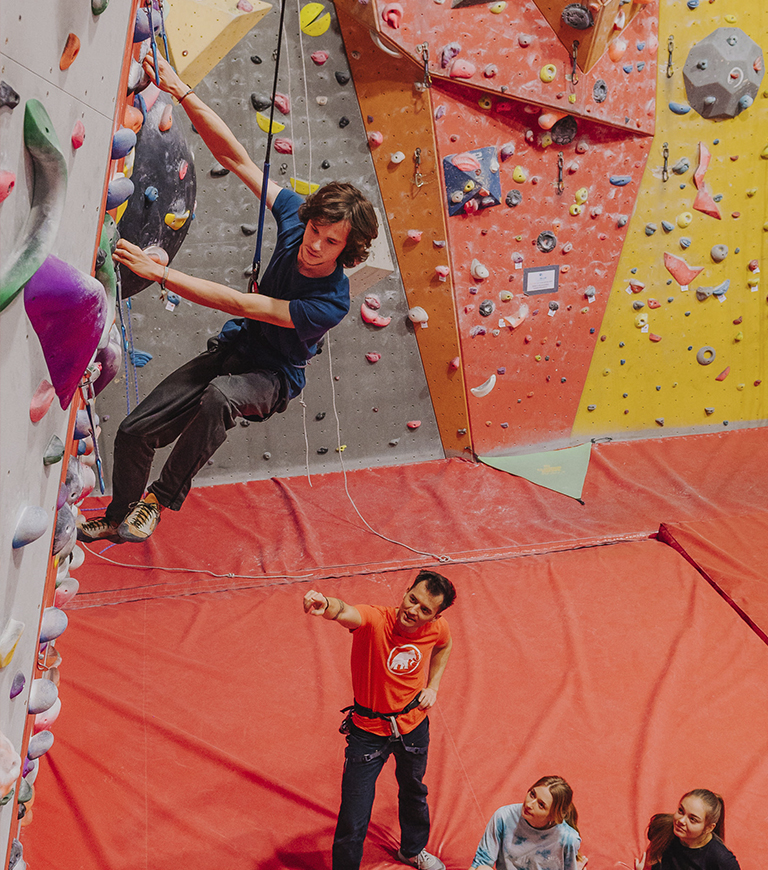 Offer
We encourage you to take a look at our offer of training options and courses listed below. Climbing is a great and easily accessible sport for everyone, but to start, you need at least a basic training in safety rules and belaying techniques. If you're visiting us for the first time, remember to approach the instructor on duty, who will provide you with information on how the climbing wall operates and what you need to know to use it safely and to the fullest. All the necessary basic equipment is provided on site (ropes, harnesses, belay devices). Please note that we do not rent out climbing shoes.
STAGE 1: Start classes for adults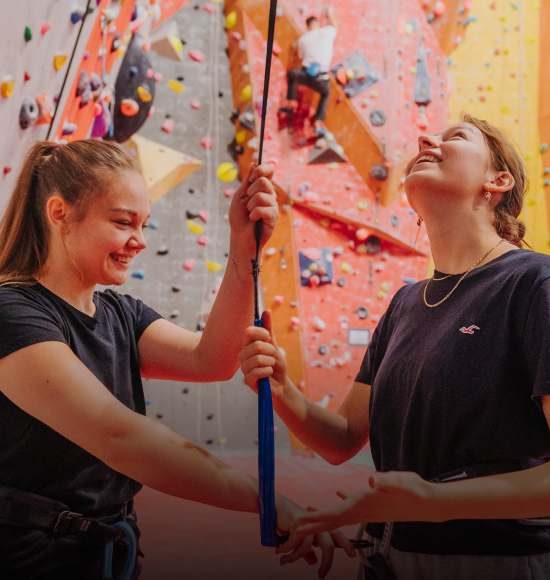 A great idea for a first visit to the climbing wall!
If you want to come to our wall and try climbing for the first time, then these are the classes just for you.
Classes are free (included in the entry fee to the wall) – during them, you will learn what climbing is all about, what types of belaying are available, what is bouldering, how to warm up properly for climbing, how to use the training equipment at the climbing wall, what a traverse is, or what indoor climbing looks like. This is also a great opportunity to ask the instructor any questions you may have, such as how to choose your first climbing shoes, or to sign up for one of the courses that allow you to climb independently!
START CLASSES last 1.5 hours and are held every FRIDAY at 6:00 PM.
STAGE 2: Introductory top rope belaying course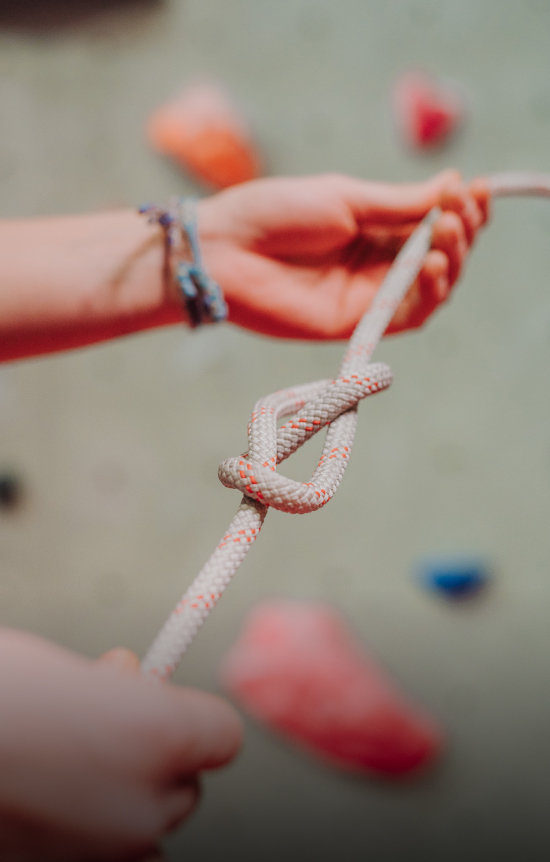 Take the first step into the world of climbing and sign up for introductory training! Top rope belaying is the start of climbing education and a pass to climbing on the wall. If you want to belay your partner but have never done it before, this is the training you must go through. :)
During the introductory training, we will teach you:
how to put on and use a climbing harness
how to tie a figure-eight knot
how belay and climb top rope
how to safely use belay devices
how to catch your partner in case of a fall off
basic safety rules for climbing with a rope
how to safely use the TRUBLUE auto-belay system.
IMPORTANT INFORMATION
A minimum of 2 people is required for the training (one of you will participate in the training, while the other is free to do some climbing if they wish – they will be needed later on)
The course is for people over 15 years of age (with a statement from legal guardians for minors)
We strongly recommend booking the training in advance, by phone or email
Duration of the training: 60-90 minutes
For the safety of our customers and the quality of our services, only wall employees or certified instructors can train beginners on our climbing wall
Registration for the course:
Tel. +48 22 245 36 88
Email: info@wgore.eu
STAGE 3: Lead climbing course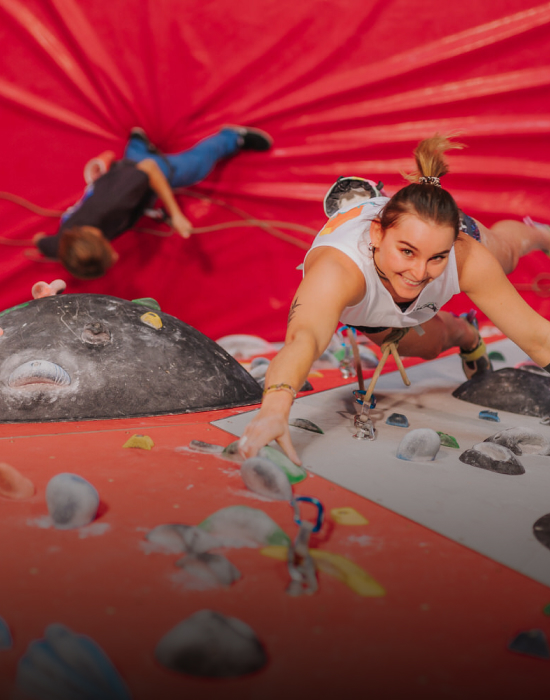 Have you already completed the initial training and learned how to belay on top rope? Do you want to fully enjoy climbing on the wall and gain comprehensive knowledge necessary for independent climbing? Then sign up for the lead climbing course! Under the guidance of experienced and licensed instructors, you will learn how to belay and climb safely. 
During approximately 10 hours of training:
You will learn about the structure and proper use of harnesses, ropes, and climbing equipment necessary for climbing with lead belay.
You will acquire basic techniques for moving on the wall and learn how to climb safely with lead belay.
You will improve your technique for top rope belay and learn how to properly lead belay.
You will learn how to catch falls and belay dynamically.
You will learn about proper emergency procedures and how to maintain safety on the climbing wall.
Duration: approximately 10 hours (two meetings on weekends)
Group size: 2-4 people
Information and registration: info@wgore.eu
One hour class with an instructor
If you are just starting your climbing adventure or want to improve your climbing skills, come for an hour-long session with an instructor! Such sessions offer a solid dose of knowledge and climbing experience – both for beginners and more advanced climbers. It is also an excellent opportunity to ask instructors any questions that you may have, for instance about choosing climbing equipment or which courses are worth taking. :)
Registration:
Tel. (22)245-36-88
Email: info@wgore.eu
Regular classes
Do you regularly visit the climbing wall, lead climb, and want to improve your skills, but suffer from a lack of a partner, motivation, or simply ideas for "what should I do next with my climbing"? If so, we invite you to join our climbing classes! Here you will learn what climbing training looks like, improve your technique, and meet people to climb and train with!
The classes take place twice a week, each lasts 2 hours
Information and registration:
sekcje@wgore.eu
Classes for groups
Group training on the climbing wall is a great alternative to physical education class at school, a great idea for a company team-building outing or an active birthday celebration. Under the supervision of an instructor, you will learn basic climbing techniques and definitely leave the classes tired (in a good way ;))!
Information and registration:
info@wgore.eu
A perfect option for those who are just starting to climb! If this is your first visit to the wall, you want to try it, but you're not sure if you'll like it, we invite you to climb on our TRUBLUE auto belay systems!
It's simple: come over, go through a short training (included in the entry fee!), Start climbing! :)
Starting regular training on our climbing wall?
Check out which pass will be the best for you.
For children
Climbing is a natural activity for humans. Don't believe it? Just look at kids – first climbing furniture, then trees, then a visit to a ropes course… If you already see climbing hyperactivity in your children and want to direct it in a safe way, maybe it's time to consider taking them to climbing lessons on a climbing wall?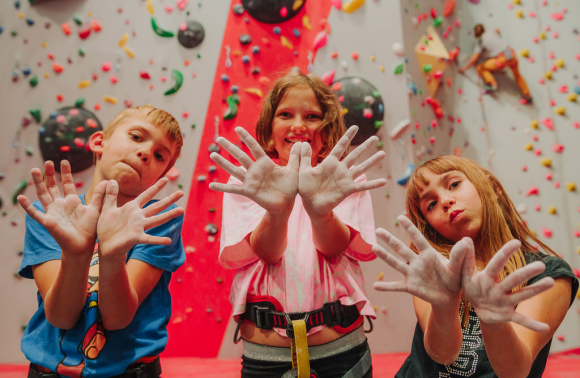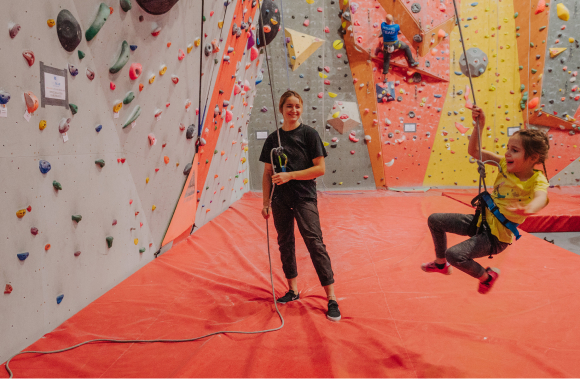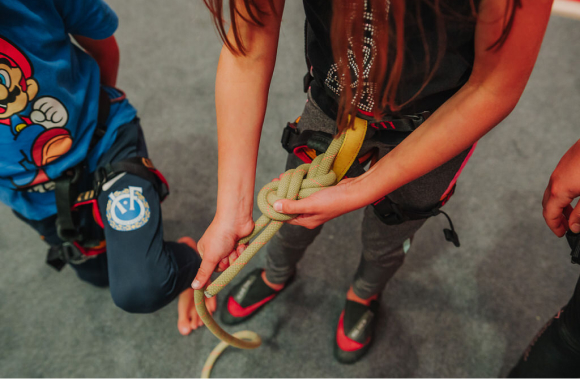 INTRODUCTORY CLASSES FOR KIDS
We offer one-hour introductory classes where children, under the supervision of an instructor, get to know the wall, familiarize themselves with altitude, learn about basic climbing equipment, and most importantly, climb a lot and discover a new activity!
These classes include:
Professional care of an experienced instructor
Introduction to a new activity
Learning new skills
Development of motor skills
Lots of climbing
For parents, an hour to enjoy delicious coffee at our restaurant
guarantee of getting back a tired child! ;)
Duration: 1 hour
Number of children in a group: 1-4
Information and registration: info@wgore.eu
CLIMBING CLASSES FOR CHILDREN
If your child has already had contact with climbing and caught the vertical bug, we invite you to organized classes for children and youth!
What you can expect:
Professional instructors
Lots of climbing in a friendly atmosphere, among peers with the same interests
Level of classes adapted to the participants
All-around physical development
Passion, partnership, new skills, getting used to altitude and learning to be responsible for a partner
Duration: 1-1.5h
Number of children in the group: 2-6
Age limit: 6-18 years old
Information and registration: sekcje@wgore.eu