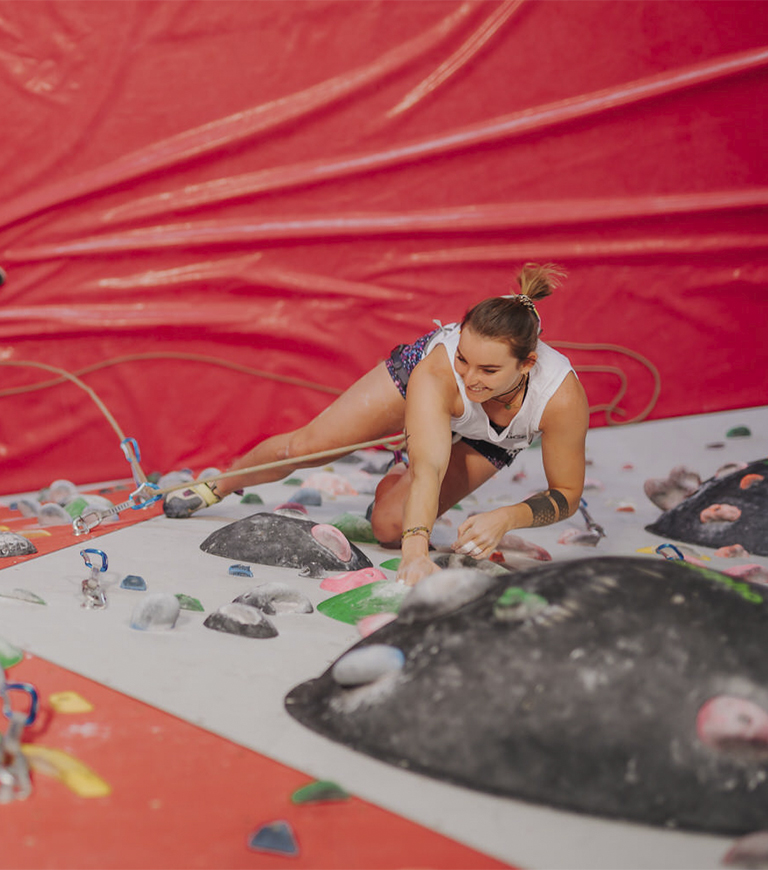 Climbing
First and foremost, climbing is a great all-around sport that requires both strength and delicacy – engaging the whole body, but especially the mind! ;)
Contrary to popular belief, climbing is not just about hanging on your hands but about optimizing movement, where the work of the legs, thoughtful body positioning, balance, and flexibility often outweigh pure physicality. The simplest routes do not require any prior preparation or even climbing shoes, so it's worth giving it a try!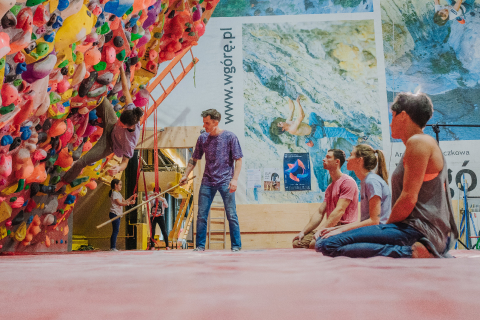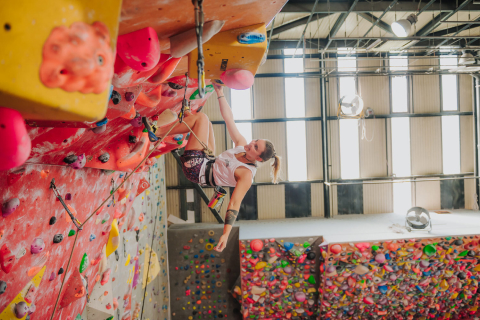 Climbing also involves using your mind and working on mental aspects such as getting used to heights and building trust in equipment.
Lastly, it's just great fun, where no two routes or boulders are the same, so there's no chance of getting bored. And on top of that, there are interesting people, a relaxed atmosphere, and the opportunity to travel to climbing areas scattered all over the world! :)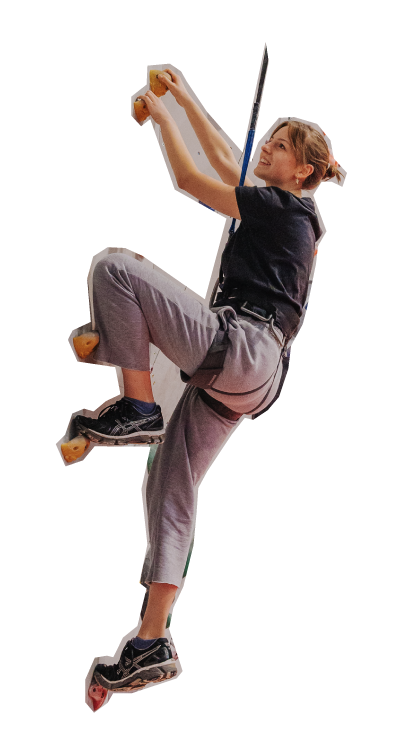 You won't need it in the first few days, but it may come in handy during future intense training. We keep the chalk in a bag attached to the harness.
You can rent out a harness and a belaying device for free at our climbing wall.
Comfortable sport shoes are sufficient for starters, and if you like this sport, you can invest in special climbing shoes.
Willingness to learn, prudence, and positive energy!
A comfortable t-shirt or a tank top is more than enough for comfortable climbing.
Loose-fitting pants or leggings will work best. If you don't want to get scraped, wear pants that cover your knees.
Courses, classes… Not sure what to choose for a start?
Find out how to start your climbing adventure in a pleasant and safe way!
Akademia wspinania Mazda
Akademia Wspinania Mazda is a short series of films in which you can learn more about the basics of proper climbing techniques. It is a large portion of interesting knowledge conveyed in a helpful and accessible way.
Episode 1
Basic Techniques Part 1
In the first episode of the Akademia Wspinania Mazda series, you will learn about the basic and correct climbing techniques.
In the video, we will show you what to pay attention to at the very beginning of climbing, in order to perform the basic climbing moves correctly. The video is dedicated to those, who are taking their first steps on the climbing wall.
Episode 2
Dynamic Techniques Part 1
In the second episode, you will learn about various other climbing techniques.
Dynamic technique, mastering which is essential for further climbing, will help you move efficiently in uncomfortable positions. Do you know what a deadpoint is in climbing? After watching this episode, that concept will become familiar to you!
Episode 3
Basic Techniques Part 2
If you haven't missed the two previous episodes, then the three points of contact principle should already be familiar to you.
In this video, you will also learn about the straight-arm rule. Combined with the three points of contact principle, this fundamental knowledge and practiced skills will help you progress correctly on the wall.
Episode 4
Dynamic Techniques Part 2
We see that you're absorbing knowledge like Thales of Miletus!
And we like that! In the next episode, you will learn about dynos and jumps on the wall! It's getting tougher, but nobody said climbing is an easy sport!
Episode 5
Footwork
Mastered mono-dynos already? Let's continue!
In this episode, you will learn about footwork and proper foot placement on the holds. Remember, if you have any doubts, the instructor at the wall will gladly help you perform the exercise correctly. Safety and caution are essential!
Episode 6
Twisting Technique Part 1
In this part, you will learn the secrets and training techniques of the twisting technique. Thanks to mastering it, transitioning from a difficult position will become much easier. This way, you'll avoid blocking positions and learn which way to twist to move forward.
Episode 7
Twisting Technique Part 2
In the second part of the discussion on the secrets of the twisting technique, Mechanior will talk about the details of this challenging art and its application depending on the direction of movement or overhang we're climbing. You will also find a catalog of mistakes that effectively prevent proper twists, as well as useful exercises. All of this will be illustrated by the impeccable persona of the prince of the twisting technique – Adam Pracownik. ;)
Episode 8
Heel Hooking and Toe Hooking
This time, a true climbing pedicure awaits you in the episode, as Andrzej takes care of your heels and toes. ;) When to use toe hooks, when to use heel hooks, which parts of them, how to turn your leg into a third hand, and what the rest of our body should do in that case – you will learn all of this from the material below!
Episode 9
Stabilization Positions
In this monumental half-hour journey, you will learn all the positions and tricks that allow us to rest, chalk up, clip, inspect the next sections of the route, admire the beautiful natural surroundings, or comfortably scold a colleague who is not sufficiently involved in belaying. ;)